Starter guide for everything CenturyLink Internet
Shopping for internet service can be frustrating, we make it easy.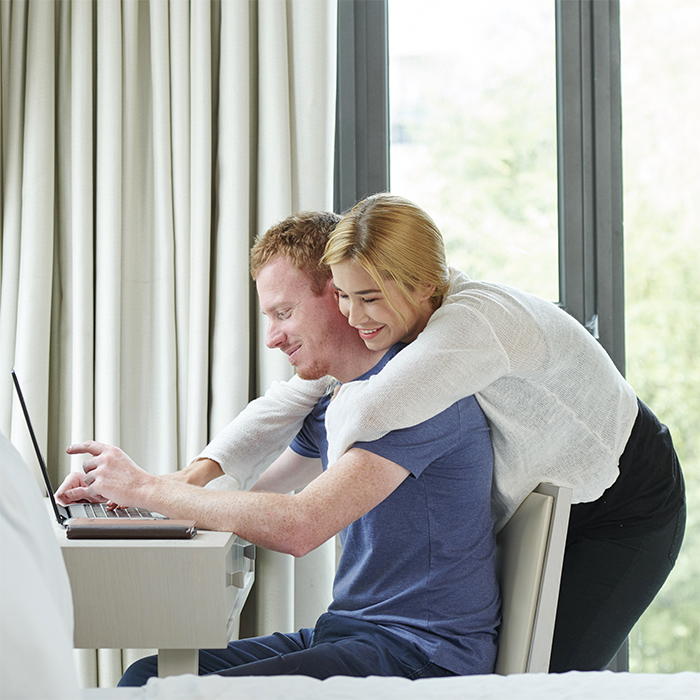 We live in an era that is quite literally run by the internet. The global pandemic turned everything virtual, from schools to offices. However, high-speed internet ensured that everything functioned smoothly, which no one before the pandemic had even thought of.
In this modern era, the internet is like an information wizard that offers a solution to almost all our day-to-day problems. The availability of high-speed internet has helped people upgrade their lives for the better and easily communicate with family and friends. It has also helped companies worldwide keep the ball rolling despite lockdowns, allowing employees to work remotely and maintain a steady flow of income in a disrupted economy.
The internet has become the place for unlimited opportunities and a place for sharing talents and skills. High-speed internet, such as CenturyLink Internet, ensures online education, continuous communication, and business growth.
CenturyLink Internet is one of the most reliable internet services available in the US, offering the ultimate in-home Wifi experience. The official name of CenturyLink is CenturyLink Inc., and it is headquartered in Monroe, Louisiana. In 2010, CenturyLink merged with Qwest Communications and at present is the second-largest communications provider to global enterprise customers in the US.
CenturyLink offers high-speed internet, fiber, phone, voice, and TV services for small businesses as well as residential customers.
What types of the internet does CenturyLink offer?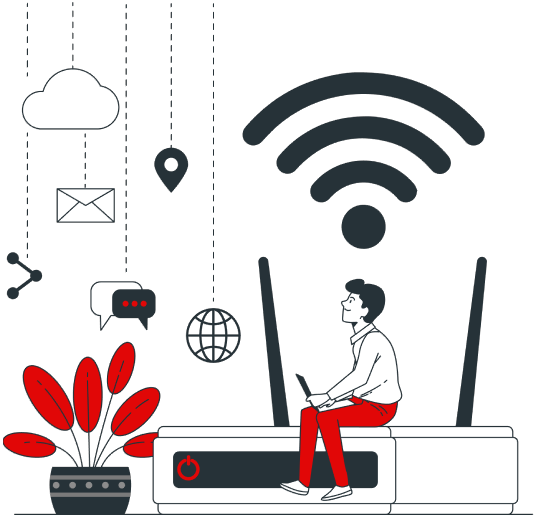 Depending on your location, CenturyLink offers two kinds of internet-DSL and Fiber. Originally, CenturyLink started off by offering only DSL internet in the West and Midwest regions and is still the type of internet that is available in most areas serviced by CenturyLink.
However, CenturyLink has also launched the Fiber internet that delivers higher speeds than the DSL internet. The CenturyLink Fiber Gigabit runs on the CenturyLink Fiber Internet network.
You can find a variety of speed options with CenturyLink Internet, with the fastest being the Fiber Gigabit. You can choose between internet speeds of 20 Mbps all the way up to 940 Mbps. It is a trusted internet service provider and is available in most states in the US. CenturyLink is the preferred service provider for many because of its reliability, high speeds, consistent coverage, and Wifi. Whether you live in rural areas, a small town, or a big city, CenturyLink has a plan suitable for your household or business needs.
Where is CenturyLink internet available in the US?
You will have access to CenturyLink internet if you live in the following 16 states of the US.
Arizona
Colorado
Florida
Idaho
Iowa
Minnesota
Montana
Nebraska
Nevada
New Mexico
North Dakota
Oregon
South Dakota
Utah
Washington
Wyoming
CenturyLink Fiber Internet Map
CenturyLink Fiber Internet, also called the Fiber Gigabit, has the capacity to deliver upload/download speeds of up to 940 Mbps. The Fiber Gigabit can be immensely useful if you need to use multiple devices, share large files, or stream games. It is delivered over a fiber-optic network and is the fastest internet offered by CenturyLink.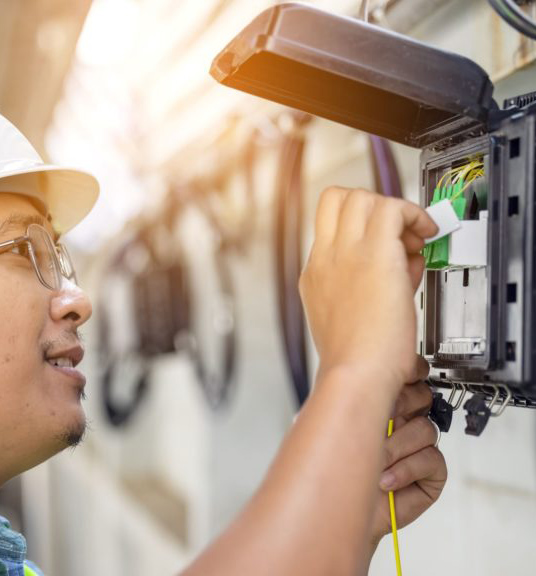 The CenturyLink Fiber Internet plan is currently available in 19 cities, including:
1. Phoenix, Arizona
2. Tucson, Arizona
3. Boulder, Colorado
4. Denver, Colorado
5. Fort Myers/Cape Coral, Florida
6. Ocala/The Villages, Florida
7. Orlando, Florida
8. Idaho Falls/Pocatello, Idaho
9. Minneapolis/St. Paul, Minnesota
10. Columbia/Jefferson City, Missouri
11. Springfield, Missouri
12. Omaha, Nebraska
13. Las Vegas, Nevada
14. Portland, Oregon
15. Salt Lake City, Utah
16. Seattle-Tacoma, Washington
17. Spokane, Washington
18. La Crosse, Wisconsin
19. Platteville, Wisconsin
Why isn't CenturyLink Fiber Internet in my area yet?
Scheduled expansion areas in 2022 and cities it will be coming to with approximate dates
On 14th September 2020, CenturyLink rebranded itself as Lumen Technologies, Inc. to focus on next-generation connectivity solutions for enterprises. However, the CenturyLink brand name will be retained for some SMB and residential services.
In November this year, Lumen Technologies unveiled its expansion plans for its fiber service targeting 12 million locations in the coming years. CEO Jeffrey Storey said that the company plans to ramp the pace of new builds from 1.5 million to 2 million each year going forward. CenturyLink is expanding its fiber network infrastructure to many parts of the US, benefiting residents, small businesses, and enterprises.
In 2019, CenturyLink provided faster internet speeds to nearly 300,000 more homes and small businesses in areas like Boulder, Colorado, Spokane, Washington, and Tucson, Arizona. It plans to expand its Fiber Gigabit to more areas of Arizona, Idaho, Colorado, Missouri, Nebraska, Utah, Oregon, and Washington.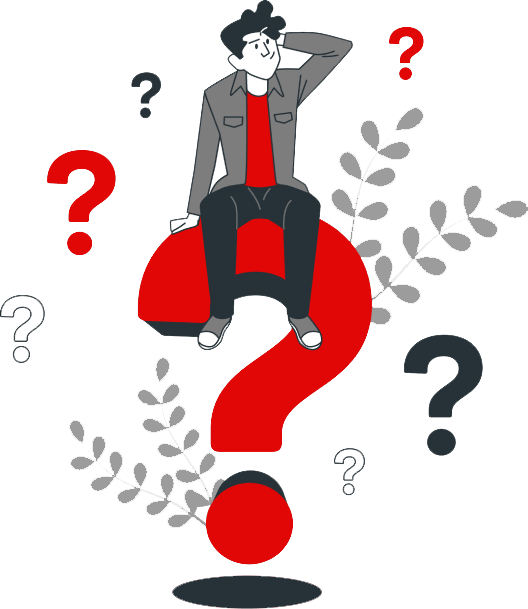 CenturyLink Internet Installation
For faster internet speeds, you require the help of a trained technician to install your equipment properly. When you sign up for CenturyLink, a technician will ensure that all equipment is properly configured so that your internet connection works the way it should.
Depending on the availability, a technician appointment will be scheduled for you for installation.
What to expect (how long, timing, the equipment they install, techniques)
When you have scheduled a technician appointment, you get a confirmation as soon as the appointment has been scheduled. CenturyLink will also send you a reminder the night before the appointment. You can view all the details of your technician appointment through the Service Appointment Manager.
It takes a technician about an hour to an hour and a half to install a modem with a single computer. If there are multiple devices, it may take a bit longer.
If you order a new CenturyLink internet service, you will receive an all-in-one modem/router that enables you to link your Wifi-enabled devices to the internet. You will not need any additional equipment.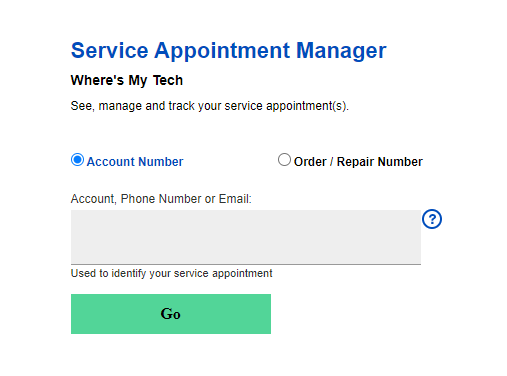 The newest Wifi gateways that CenturyLink offers are:
Greenwave C4000
Zyxel C4000LZ
Actiontec C3000A
Zyxel C3000Z
Zyxel C3510XZ, and more.
For a review of the best CenturyLink Modem and Routers, find more information here. When you order new internet service or modem, your modem arrives in the mail on or before the scheduled day of service. You will receive an email with order confirmation details and a link to track your order status. Typically, your line is activated no later than 7 pm on the start day. It is also normal for customers to receive a notification letting you know that your service has been activated. If you plan on installing your equipment on your own, it is best to wait until your service is activated to do so.
In the box that your modem arrives in, you will also find a power cord, ethernet cables, and a DSL cable. A DSL cable is not included in the case of the C4000XG model.
It is highly recommended that you download the MyCenturyLink app on your Android or iOS device before completing the modem setup. The app is an excellent way to manage your CenturyLink services and also to install your modem easily. However, you can also complete the installation through a web browser.
It is also important to find a good spot for your modem because it can have a significant impact on your wireless performance. A central location, avoiding closed-off areas such as closets, can ensure that all connected devices get a strong wireless signal from your modem/router. The spot you choose should also have good air circulation to prevent it from getting too hot. For help on modems and router installation, you can visit CenturyLink's Modem and Router Support page. However, it is always advisable to get your equipment installed by a technician for optimum performance.
When ordering CenturyLink's internet service, if you lease or buy a modem, the right gateway will be automatically selected based on the internet technology and speed available in your area. Leasing a modem will cost you approximately $15 a month while purchasing a modem could cost you $150 to $200. However, when you purchase a modem, you also get a 12-month warranty for replacement and repair.
Cost for Installations
You will be charged $129 to $149 for technician installation, which will show under "One Time Charges" on your bill. If you're a new fiber customer with at least 200M speeds, you will receive a free install.
You can also opt for self-installation, which will cost you $15. In this case, the technician will complete the work outside your house, while the customer will install the modem/router themselves. If the installation requires copper bury or aerial delivery, an additional one-time fee will apply, which is $300 for bury and $150 for aerial. The fee could be higher and will be determined after property assessment. However, the customer will be advised and informed of the same prior to installation.
The CenturyLink self-installation process is not very difficult, and a person with basic tech knowledge should be able to do it. The downside, however, is that there will be no technician to ensure that everything works as it should. You will need to troubleshoot yourself if a problem crops up.
Self-installing your CenturyLink modem
CenturyLink provides a detailed and easy-to-follow instruction guide with each kit. Following the instructions is easy, allowing you to set up your modem on your own.
Here are the steps involved:
Connect the black power cord into your CenturyLink modem and plug it into an outlet near your computer.
Once you plug the modem into the outlet, the power light will start blinking. Wait for it to stay lit, which takes about a minute or so. Once the power light stops flickering and remains lit, you can move on to the next steps.
Connect the green cable to the DSL port on your modem. You will need to connect the other end of the cable to a phone jack near your computer.
The DSL light on the modem starts blinking once you plug it in. Once the light becomes steady, you can proceed to the next steps. Typically, the DSL light turns steady green after a minute or so. If it keeps on blinking, check if your service has been activated. If your service is activated and the DSL light still keeps on blinking, check with another phone jack.
After the DSL light is steady, connect the Ethernet cable to the modem and your laptop or computer, lighting up the Ethernet indicator on the modem.
Use the CenturyLink App or open a web browser to complete the online installation. You will be automatically directed to the CenturyLink internet setup page to complete the installation. If you are not automatically redirected, ensure that all the cables are connected firmly. Then log on to connect.centurylink.com.
The last step in the process is to set up your Wifi connection. For that, look at the back of the modem for the network name and password. You need to use this information to connect to the wireless network. Once you are connected, open go.centurylink.com/addcomputer on your web browser to complete the setup. You will need to follow this step on all devices that you need to connect to the Wifi internet. That's it, and you are ready to use your CenturyLink high-speed internet.
Optional hardware upgrades
The process for upgrading your old equipment or replacing a faulty modem is also quite easy with CenturyLink. The first step is to verify the same with tech support. You can contact CenturyLink tech support by chat or by phone at 800-244-1111.
You will be connected with a tech support agent who will be able to determine if the issue with your modem can be resolved or does it need replacement. If the agent determines that your modem is outdated or malfunctioning, you can order a new one. However, it is also possible to upgrade your modem regardless of the troubleshooting results.
If you have been leasing the modem from CenturyLink, they will cover the cost of replacement of any equipment that has been deemed old or malfunctioning by the tech support agent.
If you have purchased your modem, all modems from CenturyLink come with a 12-month warranty. In case your modem is still under warranty, the warranty will cover the cost of the replacement modem. However, if the warranty has expired, you will need to cover the cost yourself and pay or lease a new modem. You can lease a modem at $15 a month, and purchasing a modem will cost you anywhere between $150 and $200.
CenturyLink Internet Reviews
CenturyLink is one of the oldest and certainly one of the most prominent internet service providers in the US. Available in 16 states across the US, it is best known for being one of the best options for rural areas.
Pricing reviews
CenturyLink currently offers several DSL plans ranging between speeds of 20 Mbps to 140 Mbps. It also offers fiber internet with two available plans. Although, not all areas have all the internet plans available with CenturyLink. In fact, in some areas, you may only be able to avail one or two of its internet plans.
However, the price of CenturyLink internet plans is one of the most competitive in the US. The DSL plans are available at $50 per month, which is quite affordable. Considering the value of the internet plans offered by CenturyLink, the average cost per Mbps comes to about $1, which is extremely competitive. The average cost per Mbps of DSL plans offered by other internet service providers, such as AT&T, Verizon, and Frontier, comes to about $2.44.
CenturyLink also does not do promo pricing. The price you get at the start of the plan is the price you get at the end of your first year.
The Fiber internet plans are for $70 a month, which is lower than other service providers. In fact, it is one of the cheapest Gigabit offers in the market. Other Gigabit internet plans, such as the Verizon Fios Gigabit, start at around $80 a month. The average cost per Mbps of the CenturyLink Fiber internet plan is 7 cents. If you look at offerings from Spectrum, Cox, and Comcast, the average cost per Mbps is around 12 to 14 cents. The average cost of offerings from Verizon, Frontier, and AT&T are approximately 9 cents.
Nevertheless, CenturyLink prices are some of the lowest available in the US. If you combine that with its price lock promise, you probably have the cheapest internet in the country. However, that depends on the kind of speeds that you get in your area. If you are stuck with low speeds such as 15 Mbps or 20 Mbps, you may be able to find cheaper internet in your area. In case you have CenturyLink's fiber internet available in your area, you have a great deal when it comes to price and speed.
Speeds reviews
Most of CenturyLink's internet plans are DSL. That puts the company at a disadvantage compared to speeds from cable and fiber internet providers. However, the speed of its fiber internet is at the top of the pack.
The fastest CenturyLink internet plan is the Fiber Gigabit plan. Offering speeds up to 940 Mbps for both uploads and downloads, it is an excellent internet plan for connecting multiple devices for high-definition streaming, video conferencing, and multiplayer gaming. Sadly, CenturyLink's fiber is not available at every address in their footprint.
For its DSL plans, CenturyLink offers a wide array of speeds from 1.5 Mbps to 100 Mbps. Although most people can experience slow speeds, somewhere between 10 and 40 Mbps, it is still sufficient for a family to surf the web, watch videos, and play online games without having to worry about long load times. CenturyLink's no-contract plans and no data caps make all its DSL plans a good option for families.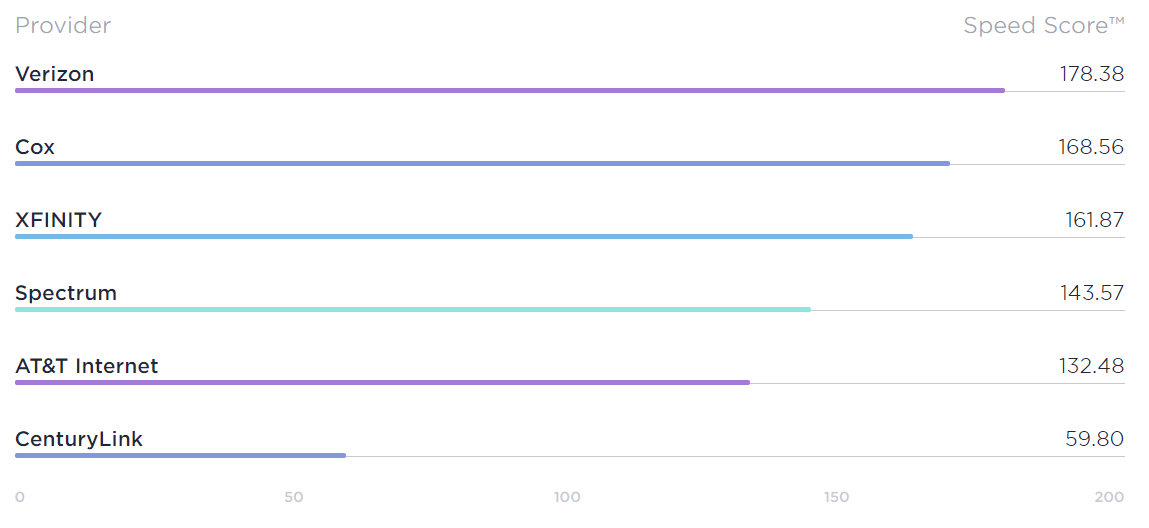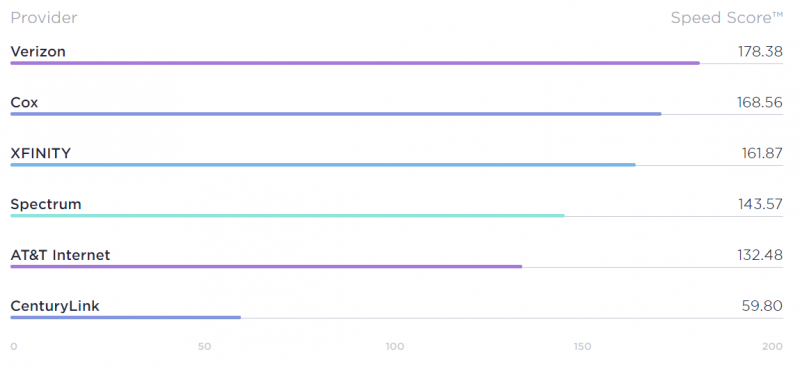 CenturyLink can do a lot better when it comes to speeds. For instance, if you head to Ookla, the speed-testing website, you'll find a Speed Score metric.
This metric tracks the fastest internet service providers based on a combination of upload and download speeds. The most recent scores were taken in the third quarter of 2021. According to the scores, CenturyLink is in the sixth position, behind Verizon, Cox, Xfinity, Spectrum, MetroNet and AT&T Internet. The sixth-place may not seem so bad, but the five service providers ranked above score an average score of about 157. In comparison, CenturyLink only had an average score of 59.8.
The advertised download speed for CenturyLink Internet is 100 to 940 Mbps, depending on the plan you choose. For AT&T Internet, the advertised download speed is 75 to 100 Mbps, and for AT&T Fiber, it is 300 to 940 Mbps. For Cox, the advertised download speed is 25 to 940 Mbps, and for Xfinity, it is 50 to 1200 Mbps.
To sum up, CenturyLink's fiber speeds are among the fastest, while the DSL speeds are as fast as other competitors. Considering the wide service net of CenturyLink, it could be a great option for people where cable or other fiber providers do not offer high-speed internet.
Consistency of Service reviews
When it comes to consistency of service, CenturyLink is a reliable service provider. Ookla' Consistency Score measures how often an internet service provider delivers broadband speeds to its customers. CenturyLink ranked sixth again, scoring 53.5%. T-Mobile took the top spot with a consistency score of 84.4%.
However, if you look at FCC's recent report on fixed broadband performance, approximately 40% of all CenturyLink's customers experienced download speeds higher than 95% of the advertised speed. Nearly 40% of customers experienced download speeds between 80% and 95% of the advertised speed. Only 20% of the customers reported that their download speed was less than 80% as fast as what was advertised.
In contrast, 93% to 99% of customers of Cox, Verizon, Mediacom, and Xfinity said that they received download speeds equal to or more than 95% of the advertised speed. However, it must be noted that the FCC report only tested the DSL internet plans of CenturyLink and not their fiber internet plans. As such, the results could be skewed towards the lower speed plans that CenturyLink offers.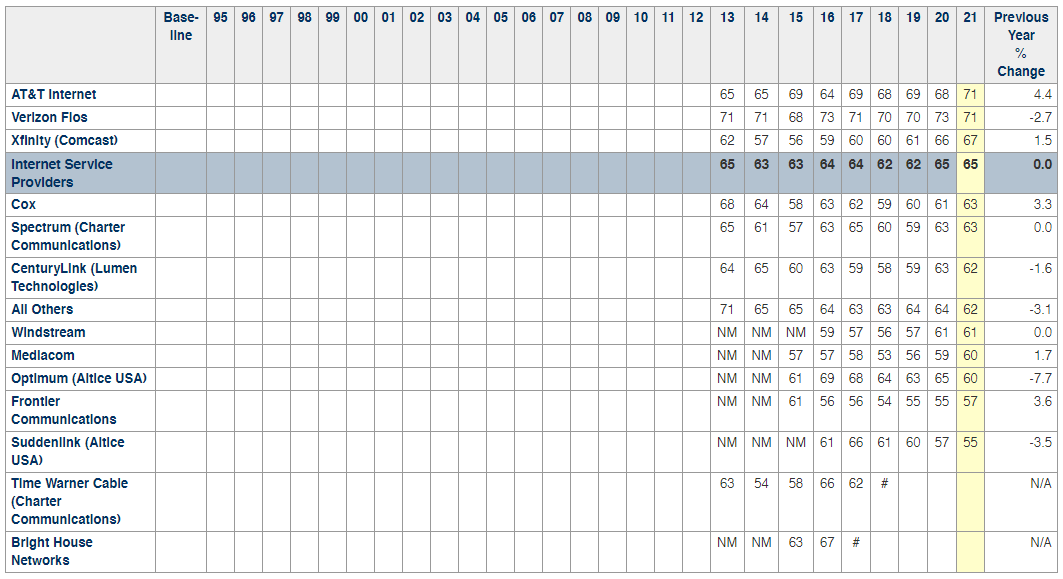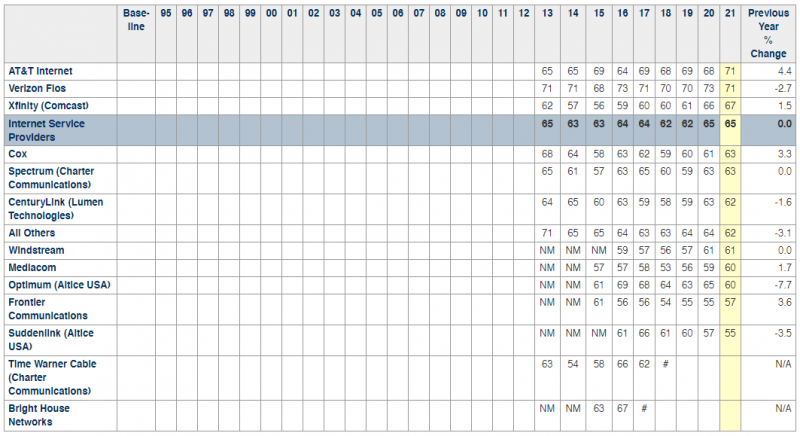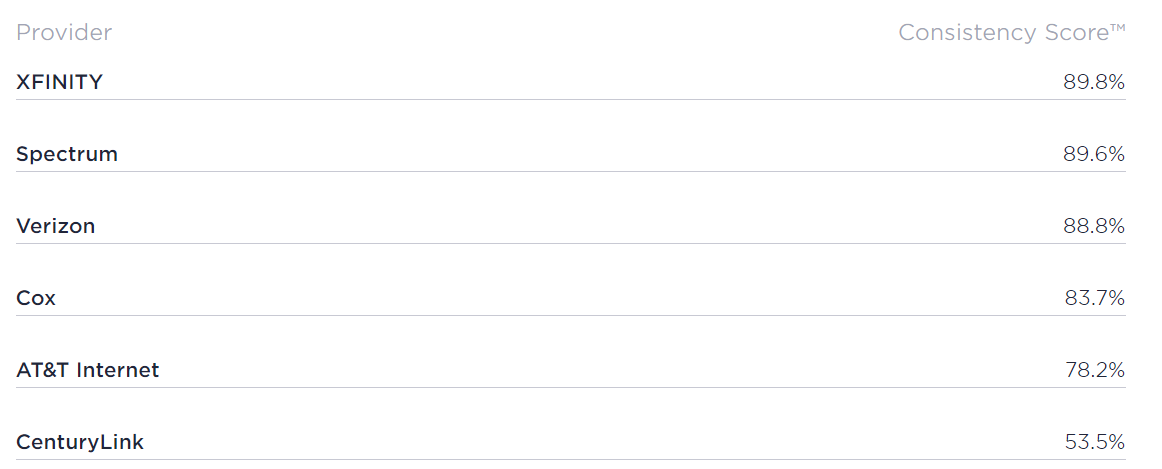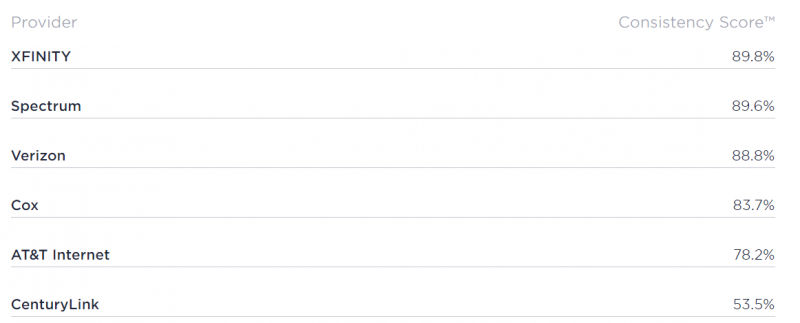 Quality reviews
When it comes to customer service scores, CenturyLink can be considered the middle of the road. Internet service providers truly need to level up their customer service efforts, and that's true for all internet service providers and not just CenturyLink. According to ACSI 2020–2021 customer service rating, CenturyLink scored 62 out of 100. The company fared better than other internet service providers that operate in similar rural and suburban areas, such as Mediacom, Frontier, Kinetic by Windstream, and Suddenlink.
Of course, there is room for improvement since CenturyLink's score falls 3 points behind the overall industry average of 65 for all internet service providers. According to another 2021 study, CenturyLink scored 674 out of 1,000 in the South region and 708 in the West. These scores are below what the company scored last year and also less than the industry average.
On the upside, CenturyLink ranked above Frontier, Medicom, Cox, and Sparklight in the West region. Considering both the above studies, it wouldn't be wrong to say that CenturyLink is a solid and reliable service provider, although unspectacular and a middle-of-the-pack performer when it comes to quality and customer satisfaction.
CenturyLink Internet Pricing Options
CenturyLink's internet speeds and pricing could slightly vary depending on the area you live in. You can choose between DSL internet and fiber internet, depending on your location.
Simply Unlimited Internet offers DSL internet with a top speed of 100 Mbps and costs $50 per month. Since DSL uses the same copper wiring as your phone networks, the speeds you get could be slower in your area.
If available in your area, the CenturyLink fiber internet is their best offering. The plan not only gives you an amazing price but also gives you incredibly fast speeds, which is not possible on non-fiber networks.
Below are the currently available internet plans:
| Plan | Price | Download/Upload Speeds | Connection Type | Best for |
| --- | --- | --- | --- | --- |
| 1.5Mbps | $50 | Up to 1.5Mbps | DSL | Casual Browsers |
| 10Mbps | $50 | Up to 10Mbps | DSL | Light Streamers |
| 40Mbps | $50 | Up to 40Mbps | DSL | Light online gamers |
| 60Mbps | $50 | Up to 60Mbps | DSL | Binge-watching online shows |
| 100Mbps | $50 | Up to 10Mbps | DSL | Multiplayer games, video conferencing, and online streaming |
| Fiber Gigabit | $70 | Up to 940/940Mbps | Fiber | Mega Users |
The 1.5 Mbps is best for a single user with 1 or 2 devices. The 10 Mbps speed is great for a single user or couple with 3 or 4 devices. The 40 Mbps plan is best for two users with up to five devices. For three users and up to six devices, the 60 Mbps plan works best.
The 100 Mbps plan is best for families with four or more users and up to 8 devices.
The Fiber Gigabit is the best plan suitable for families with five users and up to 10 devices. It is also an excellent option for small businesses.
CenturyLink Internet Solutions Use Cases
Streaming (Pros & Cons)
Whether you are streaming movies on Netflix on live streaming on Twitch, your internet speed matters. Not all streaming is the same, and you need different internet speeds for different streaming needs. For instance, to stream Netflix, you need an internet speed between 3 and 25 Mbps. If you are streaming music, an internet speed of 2 to 10 Mbps is usually sufficient. However, if you are streaming a 4K video, you need an internet speed of at least 25 Mbps. Similarly, for a YouTube Livestream, you should have a download speed of at least 13 Mbps and an upload speed of 1.5 to 51 Mbps.
If you stream quite frequently, opt for fiber instead of DSL. Fiber internet is a new technology and does not suffer from latency or speed issues that cable or DSL have. However, since CenturyLink fiber internet is not available everywhere, you may have to settle for DSL. The best thing about CenturyLink is that all their DSL plans are priced at $50 a month. So, if available in your area, don't hesitate to go for higher speeds such as 60 Mbps or even 100 Mbps.
CenturyLink's DSL internet service is as good as other service providers, although a little less flashy. Low prices and no data cap on all its internet plans make it a great choice for streaming. Plus, CenturyLink is one of the few internet service providers that offer a price lock, which means that there is no random rise in your internet bill. If you can connect at 50, 75 or 100 Mbps speeds on CenturyLink internet plans, you can use it efficiently for streaming. However, if the speeds are lower in your area, you may need to look for other options.
If your area has CenturyLink fiber internet, it is definitely worth a look. Fiber is a lot faster than DSL and has very low latency, making it the best choice for streaming.
Another advantage of choosing CenturyLink internet for streaming is its wide availability across the US. Currently, CenturyLink internet services are available in 16 states of the US. It is also one of the most competitively priced and affordable internet services available in the country. With $50 a month for DSL internet and $70 a month for fiber internet, CenturyLink is perhaps the most affordable internet service provider in the US.
Pros
– With services in 16 states, CenturyLink is widely available in the US.
– It offers competitive pricing, offering a wide range of download speeds ideal for streaming
– It offers fast internet speeds, especially if you opt for fiber internet.
Cons
– Depending on the area you live in, download speeds could be quite low.
– Fiber internet is only available in 19 cities in the US, so the service area is not very wide.
Distance Learning (Pros & Cons)
The global pandemic forced people to go digital. Employees had to work from home, while students had to attend online school. Although a lot of students have gone back to school, a lot of them still haven't. It means that reliable high-speed internet is still necessary for students to cope up with distance learning. A quality internet connection ensures that students are able to complete the educational tasks assigned to them by their teachers.
You will need different internet speeds for different tasks. For instance, if you are checking your emails, an internet speed of 1.5 Mbps is usually sufficient. Most online classes are conducted over video conferencing platforms such as Zoom and Microsoft Teams. For attending an online class on any of these platforms, you will need an internet speed of at least 25 Mbps. Videos usually use up a lot more bandwidth than text or audio. Therefore, you will need a high internet speed if you or your children are into distance learning.
CenturyLink is a great option for distance learning since it is available widely in the US. Even if you live in a village in a remote area, chances are your area will have CenturyLink services. You can opt for any of the DSL internet plans offered by CenturyLink or even their fiber internet plans if they are available in your area.
Another reason why CenturyLink is a great choice is because of its no-contract plans and unlimited data caps. If you upgrade your plan or switch to another provider, CenturyLink does not charge you any early termination fees. Also, since there are no data caps, you save on the overage charges at the end of the month, regardless of the amount of data you use. Unlike other service providers, CenturyLink does not have a ton of hidden fees, and so if you are on a budget, it is an excellent choice.
DSL internet plans from CenturyLink offer internet speeds of up to 100 Mbps. Fiber internet plans are incredibly fast, offering speeds up to 940 Mbps. If you use your internet mostly for distance learning and not for multiplayer gaming or 4K video streaming, any of the DSL plans are good for you. All DSL plans are priced at $50 a month, so you can look at the ones with higher internet speeds.
Pros:
– You get decent internet speeds even if you opt for their DSL plans.
– CenturyLink's internet services are widely available in the US. It is often considered the preferred internet service provider for rural areas in the country.
– It offers unlimited data caps, which means you will not be charged extra at the end of the month for going over your data limit.
Cons:
– You may get lower quality service if you live far from the internet service provider.
– Internet speeds may be lower than advertised speeds.
Gaming (Pros & Cons)
If you are an online gaming enthusiast, your internet speed could make a significant difference to your gaming experience. Whether you are defending your goal in Rocket League or gunning for victory in Fortnite, you need a fast internet connection.
Many video game console manufacturers recommend 3 Mbps download speed and 1 Mbps upload speed as "good internet speed." However, your laptop or your gaming console isn't the only thing connected to your modem. Unless you live alone, there will be several other devices connected to your modem, which could impact your internet speed.
The download speed of your connection is how fast you can retrieve data from the servers. The upload speed is how quickly you can send data to others. You must remember that your download and upload speeds are asymmetrical. Typically, download speeds are a lot higher than upload speeds.
More than your internet speed, latency is what impacts your gaming experience to a great extent. The best internet service for gaming is one that has the lowest latency. Latency is the delay between the action in your game and the display on your screen. High latency can make online gaming, especially multiplayer games, extremely difficult.
The internet speed you need will also depend on the kind of gaming you do. For competitive gaming like Fortnite or Overwatch, you will need high download as well as upload speeds to prevent lag or latency. Therefore, you will need to have an internet speed of 20 Mbps or above. CenturyLink offers internet speeds of up to 100 Mbps on its DSL internet and up to 940 Mbps on its fiber internet.
That said, certain internet connections are better suited for gaming than others. For instance, if you are a hard-core gamer, go for fiber internet instead of DSL or cable. The reason is that fiber internet has the lowest latency rate, and latency is your biggest enemy in gaming. CenturyLink offers internet services in 16 states of the USA, and fiber internet is available in 19 cities. If you live in a place where CenturyLink fiber internet is available, definitely give it a go. DSL internet plans by CenturyLink also offer high internet speeds. However, choose a plan that offers speeds of 20 Mbps or more.
Typically, when you choose a plan with a higher speed, you also need to pay a higher price. However, that's not the case with CenturyLink. All their DSL plans are priced at $50 a month, and their fiber internet plans are priced at $70 a month. However, the internet speed may vary depending on the area you live in. So, check the internet speed in your area, and choose the highest speed possible for the best gaming experience with CenturyLink.
Pros:
– CenturyLink offers high internet speeds, ideal for gaming. If possible, you should choose the fiber internet plan because it has very low latency.
– It offers affordable rates compared to other service providers.
– There is no contract, no data cap, and no early termination fees.
Cons:
– Fiber internet plans are only available in limited areas.
– The internet speed may vary in DSL internet plans.
Work from Home (Pros & Cons)
A lot of people worldwide were working from home due to the global pandemic. Many others prefer working from home as opposed to going to the office for numerous reasons. Some want to avoid the long commute, while others want to dedicate more time to their families. Whatever be the reason, working from home has become a lot more common nowadays than it was before.
A decent internet plan is necessary if you have to successfully work from home. You want to look for reliably fast upload and download speeds to ensure that there are no hiccups in your daily routine. Faster download speeds not only help you access things faster online but also ensure that your emails, websites, and presentations work more quickly. Faster upload speeds will help in sending that pdf attachment in seconds and ensure there are no lags or frozen frames during your Zoom calls.
Anything and everything that you do online use up data. If you are working from home, you will frequently be uploading and downloading large files. Therefore, you need a service provider that not only provides high internet speeds but also a lot of data.
CenturyLink is the best option if you are working from home since it offers unlimited data caps. So, you can download as many files as you need without having to worry about your data running out. Also, there are no contracts with CenturyLink. If you wish to upgrade your plan to a higher speed or cancel your plan, you do not need to pay any cancellation charges.
So, what internet plan do you need for working from home? If you use Zoom frequently, you need to have an upload and download speed of at least 1.2 Mbps to 3 Mbps. For Skype, your upload speed should be around 1.5 Mbps, while your download speed should be about 8 Mbps. If you are working from home, go for an internet plan in the range of 40 Mbps to 100 Mbps. Ensure that the upload speed is at least 10 Mbps so that you don't face any difficulty in uploading large files.
Although you do not need fiber internet to work from home, if you enjoy streaming or gaming besides work, it could be a good choice. A DSL internet plan from CenturyLink in the range of 40 Mbps to 100 Mbps is usually sufficient for working from home. However, whether you choose 40 Mbps or 100 Mbps, you will only need to pay $50 per month. So, it is better to choose a higher internet speed if it is available in your area. Likewise, fiber internet plans from CenturyLink are priced at $70 per month, which is quite affordable compared to other service providers.
Pros:
– CenturyLink offers high internet speeds in both DSL and fiber internet.
– It is available in 16 states in the USA.
– There are no contracts and no data caps, which means you can use as much data as you need.
– All CenturyLink Internet plans are quite affordable compared to other internet service providers.
Cons:
– Internet speeds may vary, depending on the area that you live in.
– Customer service could be improved.
CenturyLink Internet & TV Bundles
According to the official CenturyLink website, the company does not offer any Internet and TV bundles. However, you can avail yourself of their internet and phone bundles.
Their DSL internet and phone bundle are priced at $90 per month. The internet speeds you get could be as high as 100 Mbps. For their fiber internet and phone bundle, you would need to pay $105 per month. CenturyLink offers up to 940 Mbps speeds on their fiber internet. However, fiber internet is not available in all areas, and speeds may vary according to your location.
CenturyLink Internet Contract
How long is the standard contract?
The internet plans offered by CenturyLink come with no term commitment month to month service. You can also think of it as no contract. Therefore, you can cancel their internet plan or upgrade your plan at any time since there is no contract. However, if you sign up for their internet plans, you will have to sign their High-Speed Internet Subscriber Agreement prior to using their service.
What is the early termination fee?
Since there is no contract, there is no penalty for terminating CenturyLink's internet plans at any given time. If you decide to end your internet plan, you will not need to pay any early termination fees.
Does my bill go up after the end of the contract?
Pricing, however, depends on the area that you live in. So, if you are looking for exact internet plan pricing, you need to check for CenturyLink offers available in your area.
Is there a monthly equipment lease fee for internet contracts?
If you lease a modem from CenturyLink, you will need to pay a monthly equipment lease fee of $15. However, you can avoid this fee by purchasing the modem or using your own modem. The upfront costs in such cases may seem a little higher, but you end up saving a lot more in the long run.