Internet Providers Available in Minneapolis, MN
Discover the best internet providers in Minneapolis for high-speed internet plans.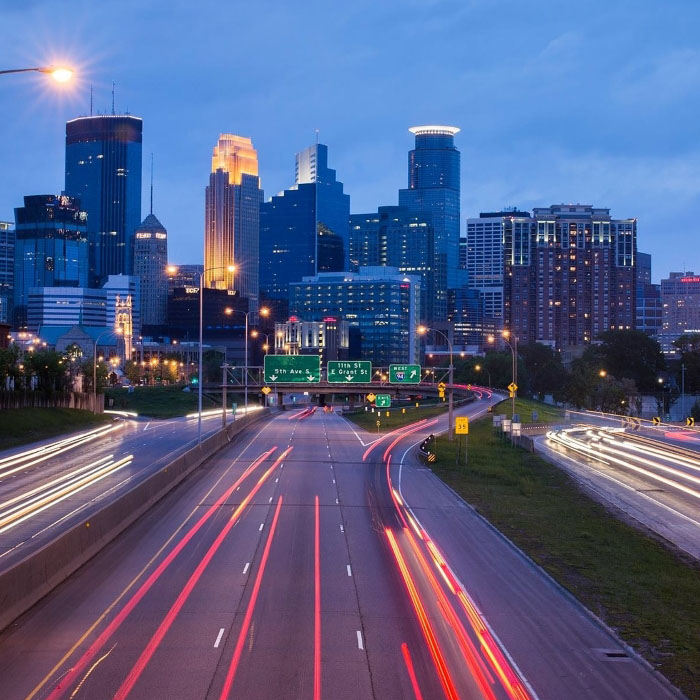 Internet providers available in Minneapolis
In Minneapolis, 100.00% of the population has access to Broadband Internet and the average home download speed is 5.94141 Mbps. 0.00% of the population does not have access to wired broadband Internet Access.
There are 1 DSL Providers, 1 Cable Internet providers,  2 Fiber Internet (FTTH) providers, and two Satellite Wireless providers in Minneapolis, MN.
To avoid getting stuck with a provider you don't like or the hassle of trying to figure out what service meets your needs, learn more about your options and the type of contracts to watch out for when choosing an internet provider in your area.
Did you know your internet speed can affect how you stream, game, and download? Shape your connected home experience by using our helpful internet guide below to compare internet providers in Minneapolis.
You can also learn about the data cap of each provider to make sure you are on a plan that fits all your needs. We make it easy to discern which Internet service provider (ISP) in Minneapolis is right for you, especially as every provider offers different features and perks.
We have created this list of internet service providers (ISP) in Minneapolis to help you choose which option is best for your family.
Minneapolis Plans & Pricing (2023)
| Provider | Starting Price | Download Speeds | View Plans | Internet Available |
| --- | --- | --- | --- | --- |
| CenturyLink | $49.00 | 10 Mbps to 940 Mbps | View Plans | Fiber, DSL |
| HughesNet | $59.99 | 25 Mbps | View Plans | Satellite |
| ViaSat | $50.00 | 3 Mbps to 100 Mbps | View Plans | Satellite |
| Xfinity | $29.99 | 15 Mbps to 940 Mbps | View Plans | Cable, Fiber |
What sort of internet plans can you expect from the major carriers in Minneapolis?
Even though it is a large city, there are only a few options if you call Minneapolis home. In many suburbs, such as Woodbury, Lakeville, Apple Valley, Eagan, Plymouth, and Maple Grove, you can find more options than you can in the city limits.
Here's a quick view at some of your options:
CenturyLink Minneapolis Internet Plans
XFINITY Minneapolis Internet Plans
Xfinity offers up to seven (7) different internet options. Starting at $24.99/mo for Performance Starter at 25 Mbps, all the way up to Gigabit Pro Internet at 2 Gigs for $299.95/mo.  The city has some excellent hotspot coverage all over the city that you can access through their routers and modems, which they rent out for as little as $14/mo.
HughesNet Minneapolis Internet Plans
HughesNet Satellite internet offers a range of plans with faster speeds, more data, built-in Wi-Fi, and no Hard Data Limits that are available anywhere in the city. As a satellite provider, you may be limited to single-family homes only for Internet service, as most apartments won't allow a satellite. Plans starting at $59.99/mo with download speeds up to 25 Mbps. A twenty-four-month commitment is typical of any HughesNet satellite contracts. Data limits do apply to HughesNet plans for residents, data plans start at 10GB, up to 50GB.
ViaSat Minneapolis Internet Plans
ViaSat is the second satellite provider available in the city, which offers download speeds up to 100 Mbps. Similar to HughesNet, ViaSat is a Satellite service that is available anywhere you can install a dish on your home. Viasat offers unlimited data with no caps, and four different internet speed packages from 12 Mbps, 25 Mbps, 50 Mbps to 100 Mbps. Upload speeds are capped at 3 Mbps
The best internet provider in Minneapolis
With so few options available, choosing the best provider is straight-forward. Do you want the fastest speed available, or the cheapest price? Your only major options are CenturyLink and Xfinity Internet. As of December 2023, Xfinity offers the quickest internet up to 2 Gigs, and the cheapest interest package at only $24.99 a month for a one-year commitment.
The $24.99 a month is good for a year, and you can expect your price to increase by $10 after twelve months. That price is still less than CenturyLink, and as a result, is an incredible value for 25 Mbps internet download speeds. To reduce your bill even more with Xfinity, ensure you purchase your own modem, otherwise, you will pay a modem rental lease fee from Comcast. This is pretty standard with Xfinity and CenturyLink. These modems here are the best options for Xfinity and pay for themselves after only one year of internet service.
As long as you plan to keep Xfinity internet for more than a year, you're better off paying for it outright versus a monthly lease fee.
What about other options? Living in an urban area, we would recommend against any Satellite internet options, as you have more choice with a DSL, Cable or Fiber Internet options that are typically more common in densely populated areas.
If you're still looking for help, or want our expert advice give us a call. We're local here to Minneapolis, so we know the city quite well! Our service comes at no charge to you and is totally unbiased. Helping serve customers nationwide with offices in Bloomington, Denver and Seattle find the best internet, television, and phone services. We encourage you to bundle these services when possible, to get the very best prices available.
Xfinity Coverage in Minneapolis, MN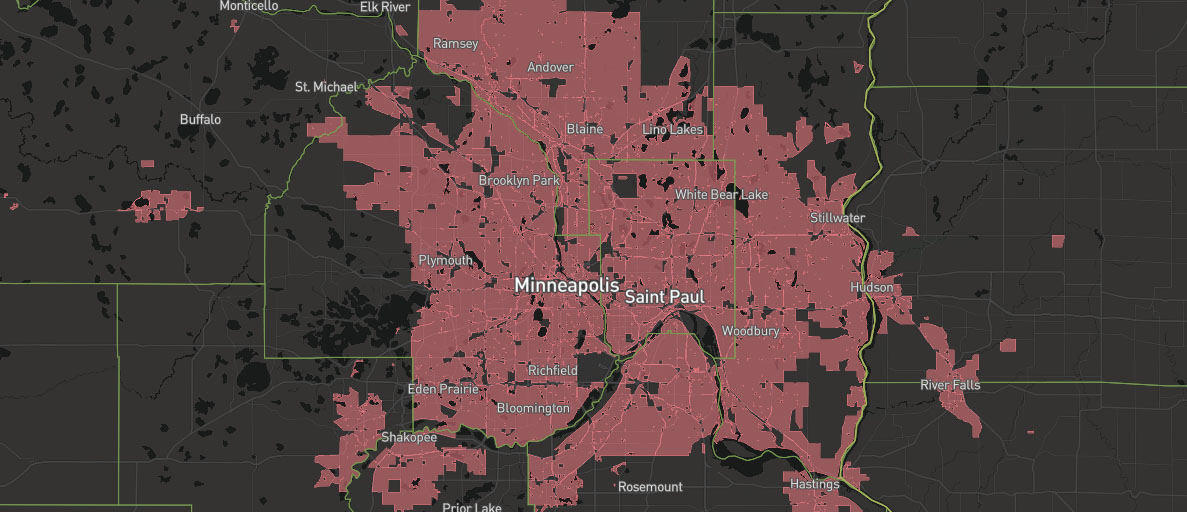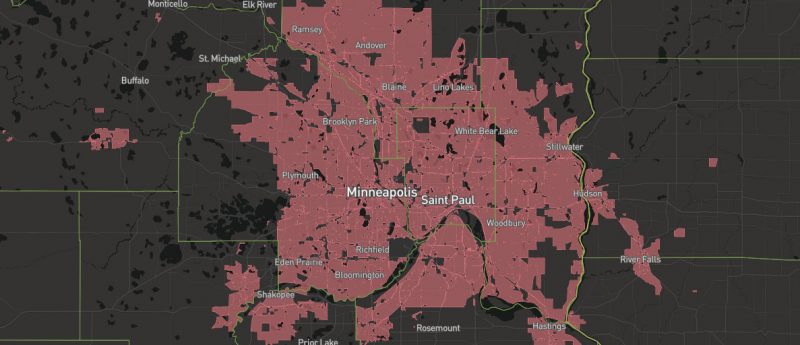 You're busy. We get it! That's why we created The Connected Home – a cost effective and easy way for you to find and manage the best internet providers in Minneapolis, Minnesota. The Connected Home is your gateway to the best internet service providers in Minneapolis. We do the legwork for you, so you can get connected and start saving.
The Hidden Costs: Prices do not include any lease modem fees or taxes. As we've discussed earlier, you may purchase your own modem to reduce your monthly fees, to discover great modem options read here.
Rule of Thumb: A general rule of thumb is to always add 10% to any total you see for any potential sales tax. As of 2023, Minneapolis has some of the worst sales tax applicable to cable, or broadband internet services.
Internet Speeds: As you increase your Mbps download speeds, you can expect an increase in the monthly price. There is no formula for the cost per Mbps, but it can range from as inexpensive as $.10 per Mbps to as expensive as $1.00 per Mbps.
| Provider | Starting Price | Type of Internet | Download Speed | Upload Speed | View Plans |
| --- | --- | --- | --- | --- | --- |
| CenturyLink | $49.00 | DSL | Up to 100 Mbps | Up to 10 Mbps | View Plans |
| HughesNet | $59.99 | Satellite | 25 Mbps | 3 Mbps | View Plans |
| ViaSat | $70.00 | Satellite | 12 Mbps | 3 Mbps | View Plans |
| Xfinity | $24.99 | Cable | Up to 25 Mbps | Up to 10 Mbps | View Plans |
The cheapest internet in Minneapolis is Xfinity
With only two major internet service providers in town, pricing without a surprise is not very competitive. Xfinity's Starter Performance package of 25 Mbps for $24.99 is the least expensive internet option. Your next least expensive option is CenturyLink at $49.99.
If you need more information concerning any specifics of internet services around you, contact The Connected Home.
The fastest internet provider in Minneapolis is Xfinity
As of this writing, December 2023, Xfinity offers internet speeds up to 2 Gig via their fiber internet service. You do not need to go that fast unless you're running a home business with multiple users on phone systems, and workstations. For the average home user with 3-4 devices connected at all times, Xfinity's Performance Select Internet with speeds up to 100 Mbps for only $34.99/month with a twelve-month commitment is your best option.
High Speed Internet Options in Minneapolis
There are four major types of internet connection available and each has its advantages and drawbacks: Satellite, Fiber, DSL and Cable.
The idea is to strike the right balance of pros and cons relevant to your needs at home.  Not every household needs the best tier internet connection available, but nevertheless it takes time to find out how your preferred ISP presents your preferred connection. The two most popular providers are CenturyLink and Xfinity, you can read about the pros and cons of each.
Satellite Internet in Minneapolis
Satellite Internet has the most extensive reach of all internet options, but it can also be quite expensive. Both Hughesnet and Viasat are the top providers in the city.
Pros
Cons
Expensive
Poor VPN performance
DSL Internet in Minneapolis
This is primarily provided by CenturyLink. DSL connections rely on existing telephone infrastructure making it widely available with high-speeds at relatively low prices.
Pros
Wide coverage
Budget-friendly
Better security
Cons
Slower than Fiber Internet
Reliability varies street to street
Slow upload speeds
Fiber Internet in Minneapolis
CenturyLink and Xfinity offer Fiber internet, but coverage is still spotty across the city. Fiber Internet is the best internet available in the city, but for most core internet users, is not necessary.
Pros
One of the faster options
Reliable service
Unmatched bandwidth
Cons
No in-built redundancy
Fiberglass is fragile
Very expensive to set-up a pipeline