CenturyLink vs Xfinity Internet
Our research takes on the age-old question—and the answer may surprise you.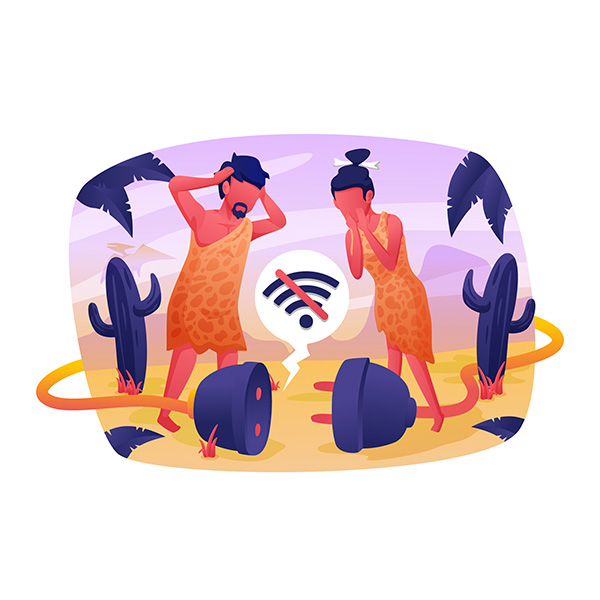 Is CenturyLink or Xfinity Internet Better for You?
It can seem complicated – but it doesn't have to. That's why The Connected Home makes it easy when you're looking for an internet provider. We help you research the service providers in your area, compare their plans,
It can all be a little bit overwhelming. Luckily, we're here to help.
In this article, we'll discuss and compare two major internet companies: Xfinity and CenturyLink.
We will provide all of the information that you'll need to make an informed decision about the best provider for your needs.
It's tough to know which internet service is right for you without first understanding what to look for in your internet coverage. You must understand what types of internet service each provider offers.
There are speed and outage differences in DSL versus cable versus fiber optic, and those differences might make or break a specific service for you.
DSL
This type of internet service comes through communication lines used for landline telephone service.
Fiber
Fiber internet is the fastest internet options available offering speeds up to 1GB. Fiber internet uses fiber optic cables to deliver high-speed internet to your home or business.
Cable
For the high data speeds required for online gaming and video streaming, cable providers have been the top choice for quite some time, especially for residential internet.
You should also look at what discounts each company offers. You will want to know for sure if you want just to order the internet from that company or if you'd like to add phone or TV services as well since you'll quite often get a discount by "bundling" services together.
Finally, you'll want to understand who is going to connect your service, and how tough it is to do it yourself.
CenturyLink provides internet services ranging in speed from 10Mbps to 940Mbps, depending on your area. Their website provides a unique tool to show you just how fast you can download photos, songs, games, and more with each speed.
That way, you'll know which speed will work best for your needs. CenturyLink primarily provides DSL internet services.
They have great options like "price for life," which allows you to pay the same price for your service month after month for the life of your plan. That means you aren't going to get sucked into a contract with a great introductory price and end up paying much more after the intro period is over.
Xfinity Starting Plan Prices
Xfinity offers a few options for internet services as well:
Their speeds range between 25Mbps and 1000Mbps.
They claim that their 600Mbps choice and those higher than 600Mbps can handle up to 12 devices.
The prices of their plans start at $20 per month as an introductory rate for lower-level plans and go up depending on your needs.
You can expect to pay more to both CenturyLink and Xfinity if you need to rent a router or modem. You can also expect to pay more if you need services installed versus installing services yourself.
Overall, CenturyLink offers more direct pricing with lower maximum prices for their services and fewer add-ons.
Contract Terms
Both services provide contract-free terms, which is a nice bonus if you're looking to avoid the introductory price promo.
Xfinity does have some contracts available with 12-month introductory rates, but they are not a requirement for services, and contracts are primarily associated with bundle plans.
Overall, Xfinity has higher internet speeds. If you plan to have a large number of items online at once, including phones, computers, TVs, robotic vacuums, thermostats, or smart devices, then Xfinity is probably the best option.
The speeds Xfinity offers will allow you to have less noticeable slowdowns when you and your family connect all of your devices.
Customer satisfaction
Ratings and feedback for both providers rank in the 3-star range, with Xfinity just beating out CenturyLink by .3-stars overall.
CenturyLink boasts a 2017 win for Global Service Provider of the Year from the Hewlett Packard Enterprise Global Partner Summit.
They haven't won any major accolades in the last few years, though, and neither has Xfinity.
Because both services offer coverage in forms that require wiring that runs on telephone poles, the possibility of outages is more prevalent than with networks that provide service through wireless or underground wiring.
DSL is typically less likely to have outages than cable services during power outages, which means CenturyLink is less likely to leave you without service.
Availability & Coverage
Coverage and availability options for Xfinity and CenturyLink are vastly different.
Although on a coverage map created by the FCC, there appears to be more overall space covered by CenturyLink. The actual percentage of the population covered by Xfinity is almost 20% higher.
Xfinity covers over 35% of the US population, while CenturyLink only covers about 15%.
Some of the major cities where CenturyLink has the best coverage are as follows:
Omaha, Nebraska
Boise, Idaho
Las Vegas, Nevada
Some of the major cities where Xfinity has the best coverage include the following:
San Francisco, California
Chicago, Illinois
Atlanta, Georgia
Pittsburg, Pennsylvania
Detroit, Michigan
CenturyLink tends to provide services in more rural areas of the United States, where Xfinity mainly exists in urban areas. This difference is evident in the major cities where each provider dominates.
Both businesses have excellent coverage in Salt Lake City, Utah, Portland, Oregon, and Denver, Colorado.
CenturyLink covers far more areas of Oregon, Washington, Iowa, Missouri, and North Carolina. Overall, CenturyLink offers service within 39 different states and 14,105 zip codes.
Xfinity covers more regions in Pennsylvania, Maryland, New Jersey, Vermont, and Tennessee. Overall, Xfinity offers coverage in a total of 40 states, but only 9,577 zip codes.
CenturyLink offers coverage in the form of DSL, fiber optic network, and cable network, while Xfinity only offers cable coverage at the moment. Xfinity has talked about adding a fiber-optic network to its offerings and has fiber for business customers through its parent company Comcast, but does not offer this coverage for residential customers.
Pros & Cons of CenturyLink Internet
CenturyLink serves a largely rural population, which is a big push for the FCC right now. Like any service provider, there are some pros and cons to purchasing their services over others.
Pros
No contracts
Gig Fiber service options
Cons
Availability and coverage aren't great in urban areas
No possibility of getting deals or introductory rates
Customer service is hit or miss
Pros & Cons of Xfinity Internet
Xfinity is a nice option for urban internet service, but, as with anything, there are both pros and cons that go along with choosing Xfinity as your service provider.
Pros
Great availability in major cities
WiFi hotspots available across the country for easy access to quick internet
Xfinity Flex and voice remote free with any service level
Cons
Limited fiber options and availability
Contracts required for the best prices
Well known for poor customer service
Prices and product availability varies widely based on location
Cheapest Internet Offerings
Xfinity's cheapest internet service plan comes in at $20 per month for 12 months with a one-year agreement. 
This plan comes with 25Mbps download speeds, but you will have to pay an additional fee to rent a wireless gateway/modem from Xfinity.
The five major benefits of this inexpensive Xfinity plan are as follows:
Free Xfinity Flex service and voice remote for TV streaming, including free live TV with Peacock
Free self-installation kit and free shipping or pick up on that kit
Norton Security included
Access to free mobile hotspots around the country
30-day money-back guarantee if you aren't satisfied
CenturyLink's cheapest internet plan comes in at $49 per month for life.
This plan is only $6 more than the post-introductory offer price of Xfinity's cheapest plan, but it comes with a slightly slower internet at only 20Mbps. We should note that this offer price is only available if you sign up for paperless billing. Traditional billing comes with a slightly higher price tag.
The five major benefits of going with this cheap CenturyLink plan are as follows:
Guarantee that your rate will never increase for the life of your service
You don't sign a contract, so you're not trapped
Free shipping on installation kit when you order online and possibly buy your modem from CenturyLink vs. paying monthly to rent it
20Mbps is four times the required speed for streaming Netflix and other services
You can have multiple devices connected to WiFi at the same time with very little lag time
Even if you decide not to factor in Xfinity's 12-month introductory offer, they still have the cheaper plan with faster download speeds than CenturyLink. They also guarantee a free self-installation kit regardless of how you buy, where CenturyLink will only provide one without a shipping fee if you purchase their services online.
The primary benefit of going with CenturyLink over Xfinity is that you are guaranteed not to see a rate hike until or unless you move or cancel service. Knowing exactly what your bill will be every time is vital to many Americans, and Xfinity doesn't offer that guarantee.
The Easy Way


Let us make it easy for you
With so many options available, choosing the best internet provider for your home and location can be confusing. The Connected Home is here to make that choice easier.
We will tell you what options are available at your location and compare the pros and cons. Once you choose an internet provider, we will assist you in establishing your account with them.
No pushy upsells, no carrier allegiances, no oversees call centers. We'll help you find the best internet service with no bias or hidden agendas.
Our service comes at no charge to you and is totally unbiased.
Helping serve customers nationwide with offices in Minneapolis, Denver and Seattle find the best internet, television and phone services. We encourage you to bundle these services when possible, to get the very best prices available.
Let The Connected Home Help
Let us help you find the right internet plan for your needs. Call now to start comparing providers, prices and speeds in your local area.