MetroNet Fiber Internet in Mankato, MN
Sign-up for MetroNet Fiber high-speed internet, available soon in Mankato.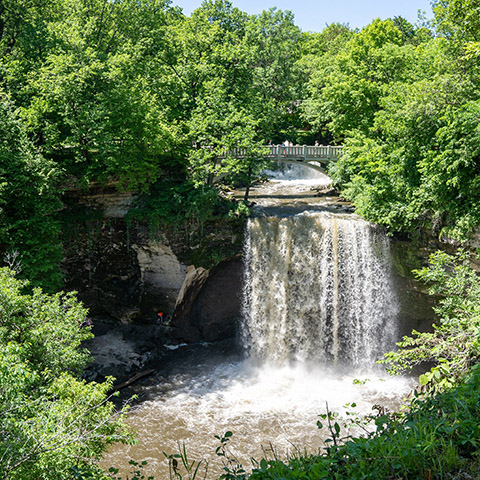 When is MetroNet coming to Mankato, MN?
MetroNet is a fiber-optic network based out of Indiana that is making waves across the Midwest.
As of March 2021, MetroNet is working with Mankato City Council members to provide coverage for residents and business owners. Other internet providers available in Mankato include Spectrum, Viasat, and HughesNet, among others.
MetroNet is already available in Rochester and Cologne, Minnesota. The company is also looking to expand its coverage to North Mankato and Eagle Lake.
The Mankato City Council is hoping to offer MetroNet to residents by the end of 2021.
Why Choose MetroNet in Mankato, MN?
MetroNet is a a customer-focused company committed to providing state-of-the-art technology telecommunication services to communities and delivering quality support to their users.
As MetroNet expands its reach, Mankato residents will soon have access to this state-of-the-art telecommunication company. MetroNet offers high-speed Fiber Internet, Fiber Phone, and Fiber TV for homes and offices and currently services Indiana, Illinois, Michigan, Iowa, Ohio, Florida, Kentucky, and Minnesota.
In today's digital world, having high-speed internet is essential for all those downloads and streaming services. With MetroNet, you get fiber optic internet for your tv, phone, and computers throughout your home or office.
When shopping for the best internet provider in Mankato, you will want to consider each company's products and services, internet speed, contracts, equipment, and price.
Luckily, MetroNet offers competitive rates with comparable (and sometimes superior) services compared to other internet companies in the area.
How fast is MetroNet internet?
Connecting to the Internet is all about speed. We all know that there's nothing worse than slow internet, slow buffering, or internet traffic that seems to move at a snail's pace.
Fiber internet is the fastest option available for homes and businesses. All of MetroNet's internet plans have fiber optics, and you get to decide exactly how fast you want it. MetroNet offers four internet plans:
100/100 Mbps – for 2+ devices and light browsing or streaming
200/200 Mbps – for 3+ devices and light browning or streaming, minimal gaming and video chats
500/500 Mbps – for 4+ devices and streaming music and videos, video chats, and uploading and downloading large files
1Gb/1Gb – for 5+ devices and heavy streaming and gaming, video chats, and uploading and downloading large files
If you're a Mankato resident with a large family or working out of your home, the 500/500 Mbps plan is the best option. It allows for multiple devices, video conference calls, and uploading photos to social media.
For Mankato homeowners who are empty nesters or singles with just one or two devices in the home, the 100/100 Mbps will provide the right amount of service at the right price.
MetroNet will offer bundling services to include Fiber TV or phone services along with an internet plan. Watch for these limited-time offers if you enjoy finding a good deal.
Benefits of MetroNet Fiber Internet
Mankato residents looking for a high-quality, fast-internet provider should consider MetroNet. By the end of 2021, MetroNet will provide high optic fiber internet for those who want faster speeds and better service.
MetroNet benefits include unlimited data, full-fiber connection, and fantastic customer support. Let's take a look at each of these benefits.
Unlimited Data in All Plans
MetroNet stands out among competitors because of its unlimited data plans. No matter what package you go with, there is no data cap for your devices. If you have a family of four, this is excellent news! Especially for families who enjoy gaming or video chats, you will enjoy unlimited data across all devices.
Full-fiber Connection
MetroNet only offers fiber optics for all its services. Whether you need internet, tv, or phone services, MetroNet will outfit your home with fiber optics to provide high-speed internet service.
Fiber provides faster and better internet connection than broadband. It's more reliable and less affected by traffic and weather. If your home or business needs fast internet, fiber is the choice for you.
MetroNet Customer Service
One of MetroNet's values is its commitment to customer service. You can contact MetroNet online, by phone, or at a local retail store. We have found that the best way to resolve issues is by email, where our questions were quickly answered, and a solution was provided with just a few emails.
MetroNet Contracts, Equipment and Price
You may be asking: Does MetroNet have extra fees in their contract? What kinds of equipment do they provide?
These are great questions to consider before choosing MetroNet as your internet provider.
Contracts
Everybody knows how internet companies love to hide fees and extra costs in the fine print.
But when it comes to MetroNet, there are no contracts and no hidden fees. Their fees are clearly marked on the bill and customer support is happy to answer any questions about your bill or fees.
Keep in mind, MetroNet does have an installation fee of $75 that is included in the first bill. But you can cancel the service at any time.
There is a Technology Service Fee on the bill, usually $9.95, that covers all of MetroNet's equipment and service calls for broken equipment.
If you opt for electronic invoice delivery you can save $4.95 each month (this fee covers the cost of monthly paper invoices). You can also choose automatic payments to make sure you don't miss any payments.
Equipment
You can use your own router or use a MetroNet router for $9.95 a month (shown as the Technology Service Fee on your bill). You will either get a Linksys or Zyxel router and can upgrade to a Whole Home WiFi service, great for larger homes or offices.
How much does MetroNet cost per month (2021)?
MetroNet customers select an internet speed best for their home and pay for that plan.
| Speeds | Starting Price | Type of Internet | Get Started |
| --- | --- | --- | --- |
| 100 / 100 Mbps | $49.95 | Fiber | Sign Up |
| 200 / 200 Mbps | $59.95 | Fiber | Sign Up |
| 500 / 500 Mbps | $69.95 | Fiber | Sign Up |
| 1,000 / 1,000 Mbps | $89.95 | Fiber | Sign Up |
Keep in mind: All MetroNet plans come with unlimited data.
MetroNet's other services include TV and phone. Fiber TV plans start at $25.70 to $104.83 a month, while Fiber Phone services are $9.95 a month.
Compared to other internet providers this is a great value. With MetroNet fiber internet, Mankato residents will receive fast internet at a great price.
Whether you are moving to a new location or just want to get comparative pricing on your various home internet options, The Connected Home is your one-stop-shop for internet, phone and television services. Bundle all your services to get the best price.