Frontier vs Spectrum Internet
Depending on where you live, your options may be Frontier or Spectrum.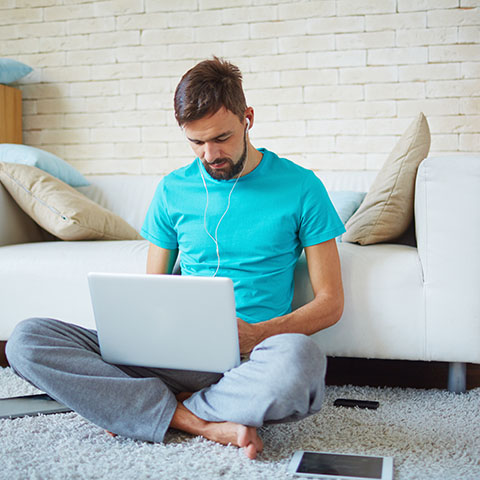 Are you deciding between Frontier and Spectrum?
Depending on where you live, your options may come down to two major internet companies, Frontier Communications and Charter Spectrum.
Before you decide, you'll want to weigh your options and think about which service offers the most bang for the buck.
While the price is essential, you want to make sure you are getting an economical service, yet offers all the amenities you are looking for, like fast internet, DVR storage, on-demand viewing, and excellent customer service.
Read on as we take a closer look at these two internet giants.
Is Frontier or Spectrum Internet Better for You?
To make an informed decision, you'll need to know what both services offer. Here we break down the service packages, and what they offer so you can decide for yourself.
Frontier Internet
According to Frontier, Frontier Internet is offered in 29 states, and Frontier provides cable TV,  DSL Internet, Fiber Internet, and phone services.
Frontier provides coverage to over 10 million customers with its fiber service making it the 4th most extensive service in the United States. Frontier is available in California, Florida, Connecticut, and 26 other states across the country as of 2020.
Frontier provides fiber service through Fios, also known as Verizon. It is offered under the name Frontier Fios, which is separate from Verizon Fios.
They also have a similar package through Vantage. These services give the customer the same internet speeds and reliability of Fios and Vantage, yet with the superior customer service expected from a smaller company.
Frontier has received awards for Top Internet Speeds Nationwide and #1 Most Affordable Basic Internet Plans Nationwide in 2019. It received a reward for Top 10 Fastest DSL Speeds Nationwide in 2019, a service provided to its rural customers.
According to its website, Frontier offers a basic internet price of $29.99 per month, including a Wi-Fi and router service fee.
Customers can surf the web at 50 Mbps, unlimited bandwidth, and high-resolution video streaming.
It says that 2-3 users at a time can stream simultaneously with this package, it doesn't offer video conferencing and comes without gaming services that make pc gameplay easier.
Their most popular internet package is available for $39.99 per month, including a Wi-Fi and router service fee.
This service offers all things mentioned above at up to 500 Mbps internet speed but doesn't provide the gaming package.
To get everything, you have to purchase their fastest internet package for $74.99, which includes a Wi-Fi router service fee for 12 months. Frontier states that their internet service offers up to 940 Mbps through Frontier Fios, depending on your coverage.
When it comes to customer satisfaction, according to an IP-verified customer survey, Frontier had a favorable rating based on positive customer scores of 33.6%. The average of internet companies was 48.4%.
Spectrum Internet
According to Spectrum, they serve over 102 million customers across the United States, Spectrum offers its Hybrid Fiber-Coaxial network to 44 states, with the broadest coverage in states like California, Texas, and New York.
The company merged with Bright House Networks and Time Warner Cable in 2016, making it the 2nd most significant internet provider in the country.
Spectrum is known for its simple tiered pricing system, which offers the same price for services nationally.
They also offer a low-income internet access program. It provides internet access to customers who receive benefits for The National School Lunch Program (NLSP) free or reduced lunch, The Community Eligibility Program (CEP) of the NLSP, or Supplemental Security Income, also known as SSI.
Spectrum received rewards for:
Top 10 Fastest Internet Speeds Nationwide
Top 5 Fastest Cable Providers Nationwide
Top 10 Most Affordable High-Speed Internet Plans Nationwide in 2019
Let's break down the costs of their tiered pricing system.
Spectrum offers three packages for internet speeds:
Internet
Internet Ultra
Internet Gig
We'll introduce each plan, what it offers, and how much it costs.
Internet
This plan offers up to 200/10 Mbps to surf the internet, send and receive an email, stream SD video content, upload or download medium-sized files, and allows for 2-3 users to utilize the internet simultaneously.
The cost is $49.99 per month. It comes with a free modem. It looks as though a Wi-Fi router is an additional charge.
Internet Ultra
This plan is good for the general user who likes to surf the internet, stream content, or has more users in one household. Ideally, this plan is suitable for families that may have 3-4 people using the internet simultaneously.
It offers download speeds up to 400/20 Mbps.
Some of the advantages:
streaming HD video
supports smart home devices
voice assistants
video conferencing
online gaming
It comes at the cost of $69.99 per month.
Internet Gig
With up to 940/35 Mbps, this is Spectrum's most powerful internet package. It can serve 4+ users at a time.
It can handle multiple online gaming streams simultaneously, virtual reality, streaming in 4k and 8k, supports smart home devices, and capability to upload or download huge files.
The cost for this package is $109.99.
When it comes to customer satisfaction, according to an IP-verified customer survey, Spectrum had a favorable rating based on positive customer scores of 50%. It is slightly higher than the average of all internet companies, which was 48.4%.
Comparing Costs of Frontier and Spectrum
Breaking down the costs of each while focusing on internet speeds, it looks as though Frontier Internet offers up to 940 Mbps for $79.99, while Spectrum Internet offers the same for $109.99.
If you're looking for the highest speed internet for a cheaper price point:
Frontier is the clear winner. The only problem: coverage.
To get Frontier Fios or Vantage, you have to be in one of the 29 states we mentioned.
Spectrum offers more coverage, so depending on where you live, you may have to go with one over the other. However, where coverage is equal, Frontier seems to be the clear winner on price.
Availability & Coverage
When it comes to availability and coverage:
Spectrum is the clear winner with ten times the amount than Frontier.
While Frontier offers 29 states, Spectrum offers 44 states also, while Frontier services 10 million customers, Spectrum services ten times that much with 102 million customers.
Let's compare the availability and coverage of major cities where both companies provide service.
Los Angeles
According to data released from the FCC, Frontier's coverage and availability in Los Angeles, California, is 2.2% city coverage, while Spectrum offers 100% city coverage.
Looking at Mbps
Frontier offers 100 Mbps
Spectrum offers 940 Mbps
Tampa
Again, when looking at data, Frontier provides coverage and 96.5% city coverage, while Spectrum offers 99.9%.
Looking at Mbps
Frontier offers 100 Mbps
Spectrum offers 940 Mbps
Here is a list of the top cities where Frontier and Spectrum offer internet service:
Frontier
Tampa, FL – 695,420
Rochester, NY – 423,469
Saint Petersburg, FL – 332,768
Long Beach, CA – 310,228
Fort Wayne, IN – 271,071T
Spectrum
Los Angeles, CA – 2,377,294
New York, NY – 1,575,717
San Antonio, TX – 1,563,580
Dallas, TX – 1,262,773
Austin, TX – 939,359
Looking at this list, you can see that Spectrum offers a lot more coverage and availability, even in cities where both Frontier and Spectrum reside.
Pros & Cons of Frontier Internet
Based on our research, we found several pros and cons when it comes to Frontier Internet.
While this is not a comprehensive list of pros and cons, we feel it is more than sufficient to provide the benefits and drawbacks of each company.
Pros
No data caps
Low price for a basic internet plan with 50/50 Mbps
Up to 940 Mbps with Frontier Fios fiber-optic connection
No Annual Commitment
24-hour tech support
Cons
Limited coverage; available in only 29 states
Low customer satisfaction rating compared to other internet providers
Low average Mbps across states with service
Unreliable internet at times according to customer reviews
Prices can vary from state-to-state
Frontier certainly has the market on price, but they don't have it on customer service, accessibility, and reliability.
Pros & Cons of Spectrum Internet
Based on our research, we found these top benefits and drawbacks with Charter Spectrum Internet.
Pros
Easy three-tiered pricing structure nationwide
Excellent availability and coverage; 44 states offer coverage
Up to 940 Mbps for hybrid fiber-coaxial connection
Availability for low-income internet access plans
Higher than average customer service rating
Cons
Higher cost for internet service
High price for installation of Internet Gig at $199.99
Slower upload speeds
The hybrid fiber-coaxial connection can cause lower Mbps at times in certain areas
Wi-Fi router not included in price
Although Spectrum offers superior customer service, fantastic accessibility, and reliability, it comes at a high cost per month.
Cheapest Internet Offerings
If the cheapest cost is what you're looking for that Frontier has you covered—starting with the basic plan at $29.99, you can't beat the price.
The cheapest program for Charter Spectrum begins at $49.99 per month.
Frontier is the clear winner if you're looking for the internet at a bargain price.
Frontier's basic service plan for $29.99 provides customers with unlimited data, a Wi-Fi router included, 24-hour tech support, 2-3 users per household, and 50/50 Mbps.
Charter Spectrum's offers unlimited data, free modem, superior customer service, 2-3 users simultaneous streaming, and 200/10 Mbps.
Whether you are moving to a new location or just want to get comparative pricing on your various home internet options, The Connected Home is your one-stop-shop for internet, phone and television services. Bundle all your services to get the best price.
The Easy Way


Let us make it easy for you
With so many options available, choosing the best internet provider for your home and location can be confusing. The Connected Home is here to make that choice easier.
We will tell you what options are available at your location and compare the pros and cons. Once you choose an internet provider, we will assist you in establishing your account with them.
No pushy upsells, no carrier allegiances, no oversees call centers. We'll help you find the best internet service with no bias or hidden agendas.
Our service comes at no charge to you and is totally unbiased.
Helping serve customers nationwide with offices in Minneapolis, Denver and Seattle find the best internet, television and phone services. We encourage you to bundle these services when possible, to get the very best prices available.
Let The Connected Home Help
Let us help you find the right internet plan for your needs. Call now to start comparing providers, prices and speeds in your local area.